Enjoy watching videos and playing games on a big screen!
Turn any normal TV into a SMART TV with the Wireless HDMI Wifi TV Receiver! Mirror the display on your smartphone, tablet or laptops in just seconds!
CRYSTAL CLEAR 4K HD
Don't suffer from streaming low-quality videos. Share clear photos, videos or movies from phone/tablet to your big screen. 
PROMOTES OPTICAL HEALTH
Prevents squinting or eye fatigue from watching too near the device. Your kids will also be safe from smartphone radiations. Long Distance connectivity even rooms away! Use your smartphone or tablet as your long-distance remote control!
LAG-FREE SIGNAL TRANSMISSION
Watch uncompressed HD videos with crisp audio without lag and unnecessary noises! Signal transmits through walls, ceilings, and floors. Get real-time zero-latency even when streaming 3D video to a 1080p device.
WIRELESS, HANDY & COMPACT
No hassle with installing expensive and inconvenient cables! Lightweight and compact design allows you to bring it to your trips anywhere. Use it for your business or school presentations!
PLUG & PLAY INSTALLATION
No extensive setups, no software installation. No messy cables! A really great solution for mirroring displays and watching it on a big screen!
WIDE COMPATIBILITY
Works with iPhone, Android, tablets, laptops, PC, Mac, A/V receiver or gaming consoles. A great solution for conference room meetings, home entertainment, and multimedia educational applications.
Upgrade your mobile viewing experience!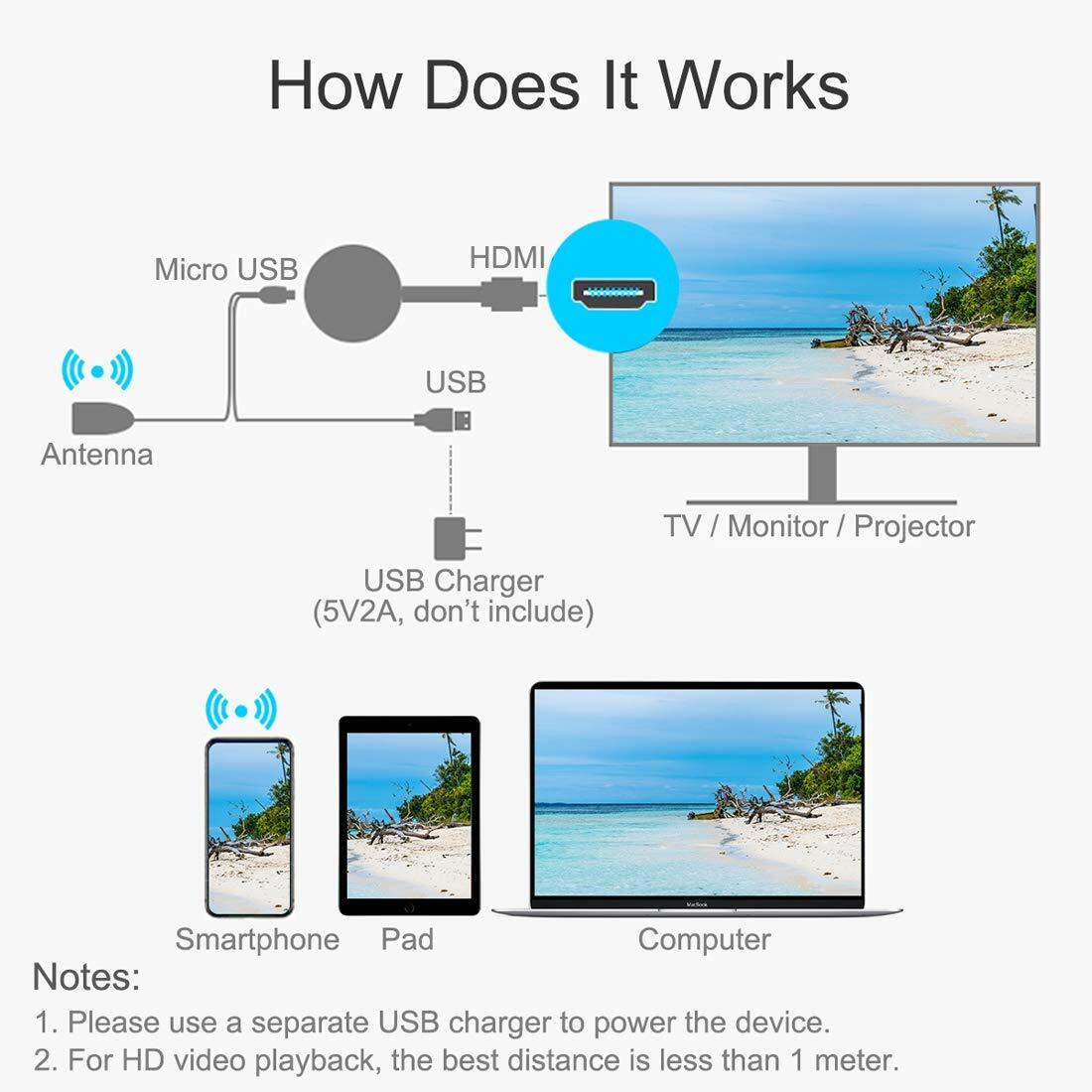 Get one of this Wireless HDMI Wifi TV Receiver for your home NOW!
---
PRODUCT SPECIFICATIONS
Material: ABS
Output Resolution:1920X1080
Weight: 25g
Size: 5.8 x 5.8cm
Package Inclusion/s: Get 1pc. Wireless HDMI Wifi TV Receiver
We Ship WorldWide ✈