BUY 2 GET FREE SHIPPING
BUY 2 GET 5% OFF  CODE: 5OFF
All dogs age, it's inevitable. With aging comes sore rear legs due to arthritis and other issues. Sometimes, our dogs succumb to injuries or require surgery. All of these things can chip away at your pet's quality of life. When your dog can't run, walk without pain, or play they become depressed. Nobody wants to see their furry friend go through that!
That's why we developed the Dog Rear Leg brace Set! Our braces help your pet walk without pain and get around just like they used, too!
Don't let your elderly dog suffer from limited mobility. Support weakened joints and muscles with our front leg wraps
FEATURES:
WON'T SLIP - The angled design matches up with your dog's hock and prevents it from slipping down. Each brace comes with 4 Velcro straps to secure the brace to the leg, comfortably

SUPPORTIVE & STABLE - This Brace is made of 4mm premium quality neoprene and nylon lining,. It is soft, yet durable, and won't cause rubbing or chaffing. Your dog can wear it every day, safely

BALANCING - Even if only one of your dog's rear legs are afflicted, it best that your pup wears a brace on each one to keep the healthy leg from being harmed

USE INSTRUCTIONS - Remove brace every 2-3 hours and at night to allow leg to "breathe"

Can be used for 4 legs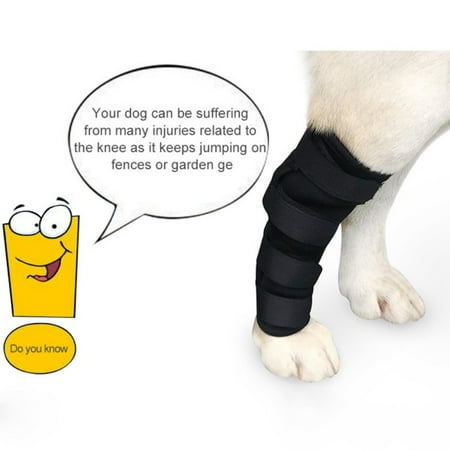 HOW TO WEAR:
Let him sniff the brace. Give a treat. Repeat a few times.

Touch his leg with the brace. Treat. Repeat until he becomes familiar with the brace. Liberally powder the inside of the brace with cornstarch or baby powder, put on the brace and fasten the buckle, treat, remove immediately. Repeat a few times.

Two hours on the first day and increase by an additional 1 hour per day as tolerated.

After the break-in period, wearing times should build up to 8-14 hours a day. Put the brace on in the morning and take it off at night.
SIZING GUIDE:
| Size | 2" above hock | 2" below hock | Brace Height |
| --- | --- | --- | --- |
| S | Up to 5.25" | Up to 4.00" | 5.75" |
| M | Up to 6.00" | Up to 5.00" | 6.75" |
| L | Up to 7.00" | Up to 5.75" | 8.00" |
| XL | Up to 8.00" | Up to 6.75" | 9.00" |
REFERENCE:
SMALL - Chihuahua and Poodle size dogs

MEDIUM - Husky and Bulldog size dogs

LARGE - German shepherd and Golden Retriever size dogs

EXTRA LARGE - Doberman and Great Dane size dogs
PACKAGE INCLUDES:
1 x Rear Dog Leg Brace (1 Pair)
Notes:
1. Please allow 1-3 cm difference due to manual measurement and 3-5 g for the difference between different colors.
2. Due to the screen difference, the color may be a little difference from what you expect, please allow it.