Clone your favorite fruit tree over and over again with this Garden Grafting Tool!

Similar to transplanting organs in humans, you can combine parts from two different trees to form a single, functional plant. The benefits? An exact genetic duplicate of the superior tree. That means, if you have one tree that harvests amazing fruit each year, you can create an exact copy by using this grafting technique and effectively double or triple your harvest!
This Garden Grafting Tool is a garden tool that will make grafting easier for you. It cuts branches precisely into a U-cut, V-cut or Ω-cut so it's easy to match and bind them together for rapid healing and more effective grafting. It can also be used to effectively prune plants and trees from your garden. Grafted fruit trees bloom & produce sooner than those that are propagated by seeds - which don't produce genetically identical offspring.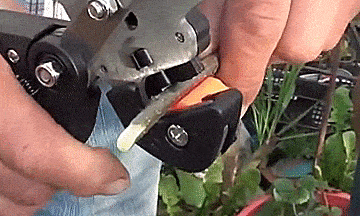 Let the Grafting Begin!
Cut grafting stocks from 5mm up to 1.4cm diameter

Chromium plated blades to prevent rusting

Automatic unlocking/safety lock for easy and effortless pruning

Imported SK5 steel with hardness HRC60
Sturdy, sharp and FUN to use: Grafting is a breeze and takes mere minutes with this tool. Get your grafting done in a day or less, dozens of trees at a time!

Higher chances of success: The right cut makes a big difference in grafting. This expert cutting tool guarantees a professional cutting job every time, meaning higher probability of success for your grafts.

Clean fitting, tight cuts: Create perfect grafts with ease. The sharp, precise blade on our grafting tool guarantees a clean cut every time. Ω-Cut/U-Cut/V-Cut.

The safest way to graft - avoid accidents! Avoid painful cuts and nicks and never struggle with band-aid fingers again. Our Grafting Tool is not only efficient, it's easier and safer than grafting with a knife. Great for those with arthritis or shaking hands.

Great for gardeners and hobbyists new to grafting: This expert tool takes all the risk out of grafting, making it the perfect option for beginners looking to start grafting.
Specifications:
Materials: Carbon steel, ABS and Aluminum

Heavy duty spring that can be used thousands of times.

Chromium plated blades to prevent rusting.

Automatic unlocking/safety lock for easy and effortless pruning.
100% Satisfaction Guaranteed With Every Order.