BUY 2 GET FREE SHIPPING
$3 off orders over +$39 coupon code 3OFF 
Do you need to move big and heavy furniture? This Furniture Lifting Strap is your solution. With it, you can easily move furniture up and down the stairs and through corners.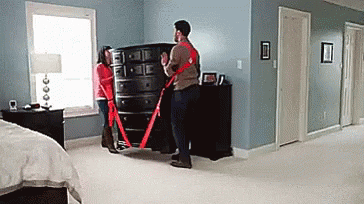 Furniture Moving Strap Forearm Forklift Lifting Transport Belt Wrist Straps Easier Carry Rope House Convenient Home Move Tool
It also reduces the chance of having back injuries lifting furniture with bare hands.
HEAVY DUTY: Rated to 800 pounds
MOVES LARGE AND HEAVY OBJECTS MORE EASILY: Employs leverage, making the item being carried seem 66 percent lighter
ERGONOMIC: Designed to encourage proper lifting techniques and reduce back injuries due to heavy and repetitive lifting
INCLUDES: 2 over-the-shoulder harnesses, which connect to the 2 included Forearm Forklift lifting straps (center straps)
ADJUSTABLE: Each of the included straps is 9 feet 4 inches long and has 3 loops at each end, providing up to 48 inches of adjustment to easily carry small through large sized items
EASY TO MANEUVER: Easier to go up and down stairs and to turn corners than floor dollies
SAVES YOUR FLOORS from scratches, dents, scuffs and scrapes that dollies and hand trucks leave behind
NO MORE PAIN


Encourage 

proper lifting techniques to significantly reduce back pain, strain on arms and hands when lifting objects.
ONE SIZE FITS ALL
Able to lift furniture with any height by adjusting strap buckle.
Use  it 
Each lifter puts on a harness (metal buckle facing forward).

Place lifting strap under the item to be lifted.

Thread the lifting strap through the metal buckle on harness.
Adjust the lifting strap to fit the item being lifted.
Simultaneously straighten your arms (until elbows lock!) and stand up. This triangulates the item with your body and provides stability and security when moving.
PACKAGE INCLUDES:

1 Pair of Furniture Lifting and Moving Straps

Material: 5 cm wide thickened PP belt
              3.5 MM thick iron buckle
Anti - stiffening non - woven fabric


We Ship WorldWide ✈