FREE SHIPPING 
Is safety is the number one priority for you? Avoid any injury and dangerous collision by wearing this LED Turn Signal Vest.
The Cycling LED Turn Signal Vest is powerful enough to help all cyclists be more visible while riding both day and night, and is equipped with a wireless remote control flashing system! It is incredibly effective at increasing visibility, informing other drivers on the road about where you are turning, and preventing potential accidents which can save your life!
The Cycling LED Turn Signal Vest is just as effective during the day and when it is raining or snowing, which is when motorists have poor visibility due to bad weather.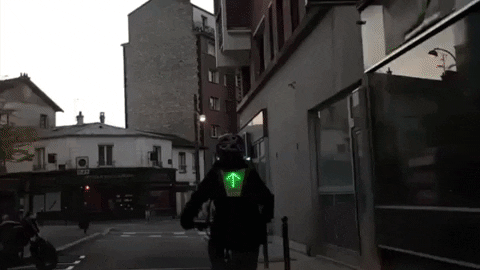 The Cycling LED Turn Signal Vest is operated by wireless remote control and is very simple and easy to use. The remote control buttons create flashing LED arrows on your vest to inform drivers of your presence and where you are going. It can signal right, left, straight and stop, giving clear indications to drivers around you.  
The safety vest can be worn over any thick jacket or coat and even over a backpack or bag.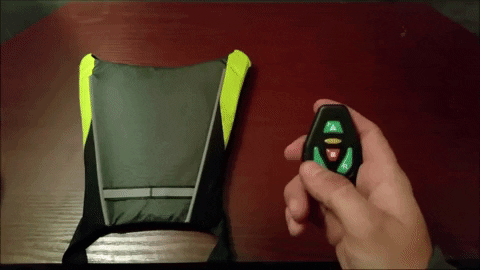 FEATURES:
Helps Cyclists Be More Visible While Riding: High visibility keeps you safe in all weather conditions and during night and day.

Made for Anyone On the Road: It is great for bicycles, motorcycles, mopeds and scooters, runners and even construction crews working along the road.

Easy to Use and Operate: Press buttons on the wireless remote controller to indicate that you're turning right, left, straight or stopping so other drivers can be aware of your presence.

Adjustable and Convenient Wear: The lightweight reflective LED vest has elastically adjustable strap buckles designed for convenient wear and can fit any size.

Engineered for Excellence: The LED Turn Signal Vest has been made of premium nylon and polyester material, water-resistant and tear-resistant. It has reflective strips and LED signal lights for higher visibility and safety at night. It also comes with a wireless remote control for easier control.

One Size Fits All: Easily Adjustable and Customizable
This Cycling LED Signal Vest is perfect for being safe in traffic! Wear this everywhere when you are in traffic to ensure your safety!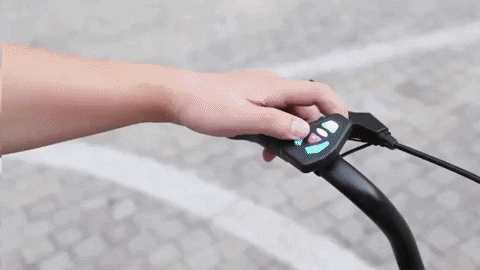 Product Feature 
Remote control battery: two CR2032 button batteries
Receiver battery: built-in lithium battery (650mAh)