FREE SHIPPING ORDERS $49
BUY Quatity 2 get FREE Shipping 
NOTE: Quantity 1 means get 4 pairs, select quantity 2 means get 8 pairs and FREE shipping . 
Product description
Comfortable and Fashion
Mild compression offer appropriate support and brace to your feet, boosting circulation and
bringing great comfort to you leg. Cute patterns make you be fashion and unique.
The Secret is The Fusion of Two Technologies, Graduated Compression Socks and Copper-Infused Fibers.

Size Guide
Small/Medium: Women's shoes 6-9.5 | Men's shoes 5-9.5
Large/X-Large: Women's shoes 10-13.5 | Men's shoes 10-12.5

Quality Materials
Color Copper, 10% copper fibers, 83%Nylon and 7% spandex
Multicolour 1/2, 80% nylon and 20% spandex.
High performance nylon and spandex make these socks comfortable, breathable and durable,
copper fiber is a high performance materials of reducing odor and keep clean.

Perfect for Sports
Comfy compression boost circulation and recovery, offer enough support brace prevent injure
which will enhance your athletic performance.


Help Relieve Fatigues & Discomfort for Those on Their Feet All Day
- Pregnant women, nurses, doctors and teachers
- Athletes and active people like soccer, running, hiking
- Frequent travelers or anyone taking a long plane flight
- Gamer, office worker and driver that require prolonged sitting
- Chefs and restaurant serving staff
- And jobs that require to be sit or on your feet a lot and MORE!
- Ideal gifts idea for those you love.


Say Goodbye to Your Pain
It's help to relieve
- Fatigued, and swollen feet
- Edema, shin splints, and varicose veins
- Post-surgical recovery and athletic recovery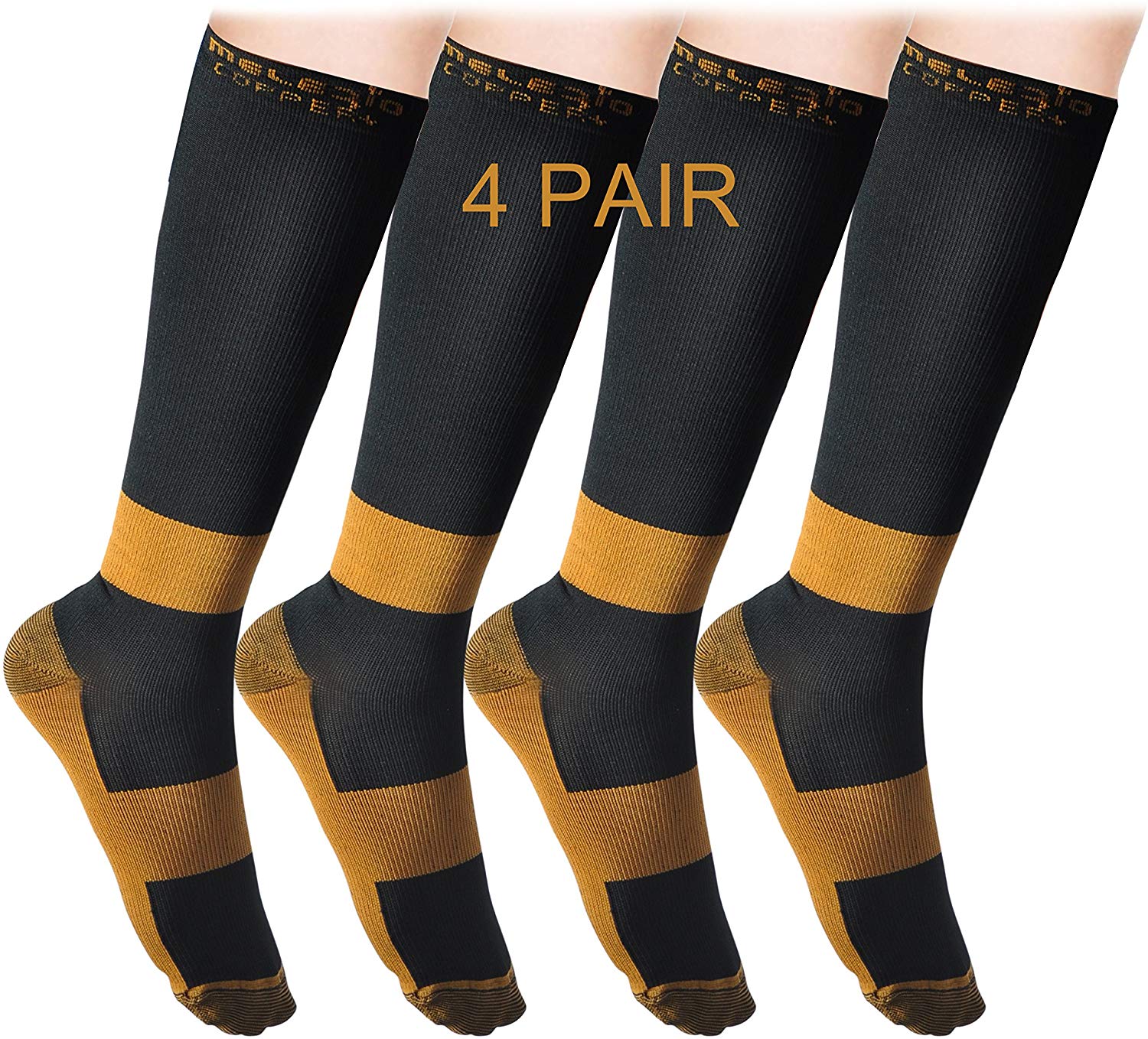 83% nylon

COPPER COMPRESSION SOCKS. Copper infused fibers is a high performance materials to reduce odor and keep clean during all day standing or sitting and workout training.

GET ENERGY COMPRESSION SOCKS. 15-20mmhg graduated compression give you comfortable feeling from your feet to leg. It is help to boost circulation and get energy recovery, also offer enough support to prevent injure.

WOMENS & MENS COPPER SOCKS. Best stockings for travel, flying and sports like running, soccer, cycling and relieve pains for edema, varicose veins shin splints.

BEST COPPER COMPRESSION FOR WOMEN & MEN. Standard USA size, fit and comfortable.