Perfect Illumination for your Car Interior! 
If you need a bright light help you get your key in the ignition or that you would be able to see what you are doing when you are not driving, this Car Interior Lamp provides just enough illumination to accomplish that!
It is bright enough to read the map, find lost items and more but will not distract the driver or make it harder to see outside the car at night. So be it your keys or a safety pin that has fallen down on your car floor, this will help you find it in seconds flat.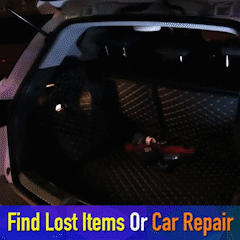 Highlights:
BRIGHT LIGHT: Super bright, not dazzling, offering you a perfect illumination environment

DUAL COLOR: This lamp can emit two colors and can easily be adjusted according to your preferred color

LOW POWER CONSUMPTION: The LED lighting technology translates into low power usage, high energy efficiency, long-lasting lights, and an eco-friendly lighting experience

SENSITIVE TOUCH CONTROL: This car interior light is very easy to use with sensitive touch control




SIMPLE INSTALLATION: Features a non-destructive magnetic absorption installation

NO SAFETY HAZARD: The light is easy on the eyes, it illuminates your car's interior without blinding your driver

CONVENIENT: The built-in lithium battery is rechargeable via USB so there's no need to replace

LONG-LASTING: It can last for 4 hours under full charge




Specification:

Color: Blue and White / Blue and Yellow

Size: 10cm x 1.2cm in diameter

Charging Interface: USB

Weight: Approximately 140g

Battery Capacity: 320 mAh

Light Color: Pure white + Ice blue / Warm Yellow + Ice Blue




Package Includes:

1 x Car lamp

1 x Magnetic sheet

1 x Double-sided tape

1 x Adhesion enhancer

1 x Charging Wire