Car Headlight Tint Film are an industry first: a headlight/taillight tint with all of the technologies developed in premium materials. They include an air-release membrane which allows you to install the tint dry ( without installation liquid ) Ready to use out of the box!

This is the only film on the market that can wrap ANY SHAPE. It is super conformable with heat. It was originally manufactured for hard-to-wrap surfaces, but the ease of install has professionals saving time on any headlight shape.
This film is also self healing and scratches will go away with heat! Simply cut the vinyl to shape, and apply it to the surface. To make the vinyl conform to curves, simply heat with a heat gun or hair dryer, stretch and apply. Lastly, using a sharp blade, trim away excess from the headlight and you're done! its literally that simple!

Made with scratch-resistant automotive grade cast vinyl to reduce the risk of shrinkage and peeling almost completely! The adhesive is acrylic based which will not eat through plastic like other tints on the market. It is 100% chemical safe, and will not eat through headlight coatings or damage your lights.
Not only that; Car Headlight Tint Film deliver this clarity of light transmission in a thicker, more protective vinyl than our previous generation of XPO headlight / taillight films. 
Improved clarity. Improved scratch protection. How else can we improve on the xpo generation headlight tints? By refining the finish even more. Car Headlight Tint Film went back to the drawing board, and the result is a headlight / taillight tint with the glossiest finish we have ever manufactured.
FEATURES:
Coolest Car Lights
The light color changes at different viewing angles.

Highly Stretchable
Able to wrap any shape.


Superior Transparency
Reserves light transmittance up to 90% to ensure safety.
This tint film is made of automotive grade cast vinyl, which adds vivid & color changing effects to your car headlights, taillights, fog lights or even part of the windshield, while acting as an extra protection to your lights and preventing dust accumulation.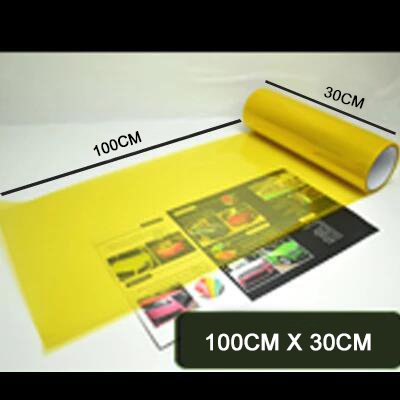 Package Includes:
1x Car Headlight Tint Film
Colors: Yellow/Blue/Chroma
Size:Long:100cm,Width:30cm.