You won't believe your eyes! Our Amazing Crystal Tree is the ultimate science experiment and a great decoration for your desk. 
Set up your tree according to the instructions and in just a few hours your tree will be covered with gorgeous colorful crystals!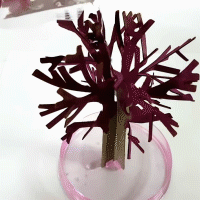 • Fill the tree stand with the magic water included in the pack, and watch it grow in just 24 hours.
• The Amazing Crystal Tree perfect for a desk or tabletop display.
• Recommended for ages 5 years and up.

• Challenge your children's imaginations and keep them active.
•Committed to providing the most imaginative toys along with the highest safety standards.

• We offer toys for any kind of play: active play, science, and discovery, arts and crafts, impulse and novelty toys, and nostalgic retro classics.

• Grow your own tree in one day.

Pack Include: 1 x Magic Tree + 1 x Magic Water Pack + 1 x Plastic Container